This is a very special year for us, as we celebrate the 21th anniversary of our brand. Visit us and experience something truly different – the astonishing emotional diversity of live music and the overtones you could hear in live music only before! Taylor Acoustic is globally renowned for putting immense emphasis – beyond the outstanding technical parameters – into the development of the emotional intelligence of their hand-made loudspeakers for the past 21 years. That is why many of our customers call Taylor Acoustic the "Stradivari of the High End Loudspeaker Manufacturers".
Due to the increased interest and as an anniversary surprise, this year we will also demonstrate our loudspeakers and cables with the audio systems of Chord Electronics and PS Audio in our demo room at High End 2019, Munich! This year we will set up three audit demo systems. From our loudspeaker portfolio, we will demonstrate our new stand mounted loudspeaker – Concert 120, Symphony 160, and our signature tower speaker, Paganini IV as well!
You can read about these products under the links above. Our entire range of loudspeakers beautifully follow our philosophy and tradition.
We were working very hard over the past 21 years so that we can experience that the sound of our loudspeakers will move you and your emotions the same way as when you attend a live music concert.
When you close your eyes and listen to the music, you will be able to sense where the musicians are located in space in the orchestra and you will be able to follow the exact melody of each individual musical instrument within a harmony.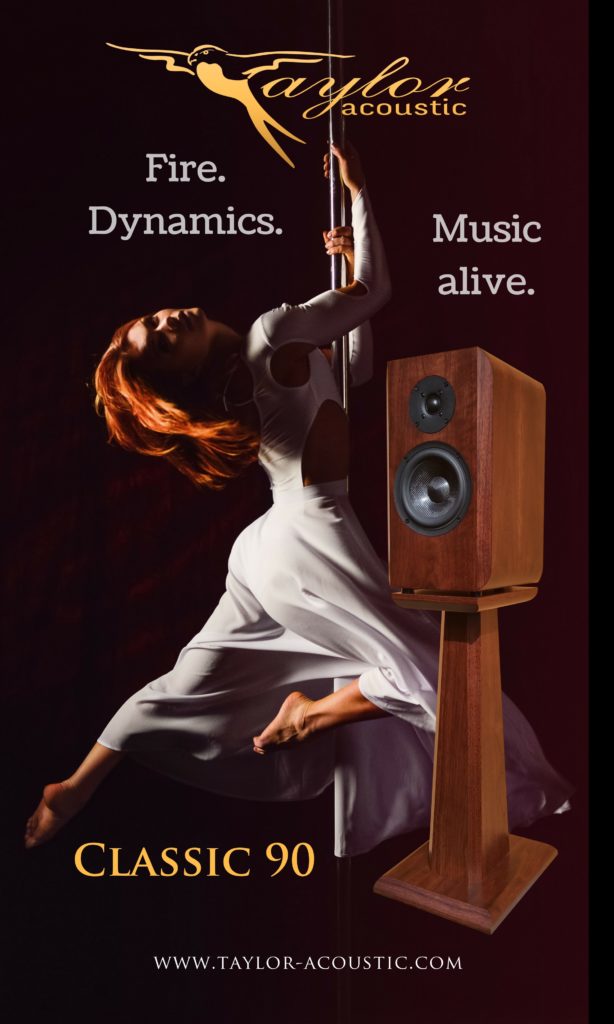 You will not need to be placed at the top of the musical triangle to get the best listening experience, we have designed our loudspeakers to give even, holographically balanced sound and dynamics at every point of the listening room irrespective where you are seated.

You can enjoy our loudspeakers at a low volume of 2-5 Watts (less than 75 dB) already with such intense dynamics, such musicality that your body will not be able to resist your emotions. Your listening experience hence is not tied to volume any longer. Listening music on our loudspeakers hence becomes a beautiful way of reliving emotions and releasing stress in the comfort of your living room.

We came up with new designs and we made the colour range wider for our entire loudspeaker range, so that you do not need to make a compromise neither in sound nor in design. You can now find modern fresh colours and designs in our range besides the classical styles.
All our products – including the new ones – are unique, individually made, and were manufactured for life. We use durable, quality raw materials and components, and we individually hand-tune every product and their components, so that you can get a sound you never heard from loudspeakers before. We serve you with loudspeakers that you can enjoy for generations, like the "Stradivari of the High End Loudspeaker Manufacturers" according to our customers.
Once you join the Taylor Acoustic community, beyond your statutory warranty rights, we offer you that when you wish to switch to the newest development of our loudspeaker portfolio, your used Taylor Acoustic product will be considered close to its original purchase price (dependent on its condition). We trust our products this much.
Are you interested? See you at our next exhibition or at a private demonstration in your showroom. Experience Taylor Acoustic with your own ears! You are always welcome to bring your own demo CDs at any time.
You can use the below form to make a demo appointment with us and find out why are we different. We will protect your data and will not give it to 3rd parties: