Nike Reference – the Jewel of Loudspeakers
The Nike Reference was named after the Winged Goddess of Victory in the ancient Greek mithology, who holds a branch of palm and a wreath of Laurel leaves in her hands. The title of the "Mentor of Pianos" was given to it by many of its listeners, because this product truely revives the temperamental mementos of Franz Liszt as well as the sentimental melodies of Chopin.
Due to its genuine cashew exterior and aesthetic design, the Nike Reference represents a high standard, musical furniture in the upscale homes.
The original Nike base loudspeaker has proved superior already to many standing loudspeakers. The Nike Reference is however even more respected, because of its full-bodied lows starting at 31 Hz and its range extending up to 30,000 Hz.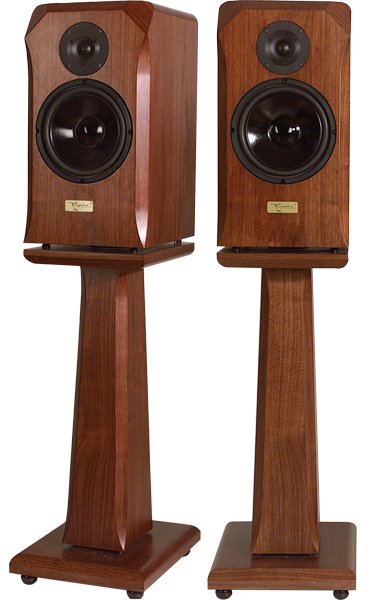 Please see technical details below. For more information about the Nike Reference, please contact us.



Click here
Size


114 x 26 x 35 cm ( 45 x 10 x 14 inch)

Weight


38 kg ( 84 lbs)

Performance


Recommended 2-4 watt




Maximum 110 – 160 watt
System


2-way, tuned system

Impedance


4-8 Ω

Frekvency range


31 – 30.000 Hz

Sensitivity
91 dB
Colours


You can choose from Cashew, Mahagony and Teak wood

Recommended accessories


Cables, amplifier

Designer


David T. Taylor