Venus – The Magic of the  Stage  Music Experience
Venus emerges from the many – sometimes multiple-times more expensive – loudspeakers by producing the magic of the stage music experience. The listener can experience the catharsis that this loudspeaker can realistically reflect even the smallest emotions of the musicians, hence listening to music becomes an unforgettable memory.
The sound of Venus brings us back in time to the original performances, and we have the feeling as if we were right there, sitting in front of the historical musicians, who are playing their new compositions on stage.
To the biggest astonishment of those who listen exclusively to bakelite records, when CD's were played the Venus loudspeakers could sound overtones and fine vibrations of musical instruments, which they totally believed was missing from the more sterile sounding CD's.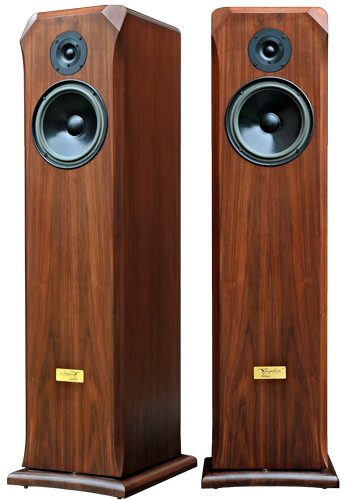 Size


116 x 28 x 35 cm (46 x 11 x 14 inch)

Weight


48 kg (106 lbs)

Performance


Recommended 2-5 watt




Maximum 110 – 160 watt
System
2-way, tuned system

Impedance


8 Ω

Frekvency range


24 – 30.000 Hz

Sensitivity
91 dB
Colours


You can choose from Cashew, Mahagony or Teak wood

Recommended accessories


Cables, amplifier

Designer


David T. Taylor