Paganini IV. – Embodies the Experience of the Live Symphonic Orchestra Concerts
This product was named after the well-known violin virtuoso, Niccoló Paganini, who was called the "Devil's Violinist" because of his unrivaled violin technique. When his brilliant compositions were played on Paganini-IV. at an exhibition in Milan, many people from the audience gave a standing applause to the performance – similarly to when Niccoló Paganini was celebrated once in the Teatro Alla Scala in Milan – which was an honorable remembrance to the Maestro.
There are many admirers of luxury cars amongst our buyers and testers, who irrespective to each other gave the independent opinion that the Paganini IV. loudspeakers of Taylor Acoustic are the Rolls Royce of loudspeakers!
It is an enormous recognition to a product when it is compared to the number one luxury car in the world, the Rolls Royce. This is such an honorable mention, which can be received very rarely, only when a product richly deserved it. However, Paganini IV. has received this title on many occasions by famous musicians, businessmen and music fans.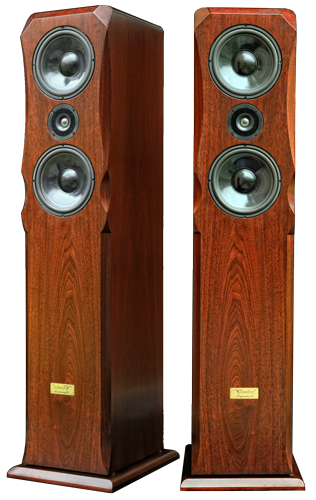 Please see technical details below. For more information about Paganini, please contact us



Click here
Size


128 x 28 x 38 cm ( 50 x 11 x 15 inch)

Weight


47 kg (104 lbs)

Performance


Recommended 2-4 watt




Maximum 180 – 250 watt
System


3-way, tuned system

Impedance


4-8 Ω

Frekvency range 


19 – 41.500 Hz

Sensitivity
93 dB
Colours


You can choose from Cashew, Mahagony and Teak wood

Recommended accessories 


Cables, Amplifier 

Designer


David T. Taylor